Follow the Easter Bunny to Ralph's and Bayview Thriftway
EEveryone has their favorite iconic pairing. Peanut butter and jelly. Movies and popcorn. Wine and roses. But chocolate and halibut? It may not sound delicious together, but it all comes to Ralph's and Bayview Thriftway in April and promises delicious treats for visitors of all ages.
The arrival of spring makes us want to be outside, finally together. Although it's still cold enough for only the diehards to grill at this time of year, we're all a little tired of cooking for ourselves. This Easter time, let Thriftway do the work – washing the pots and pans! – for you and just enjoy spending one-on-one time with your family and friends.
Get started by pre-ordering your Easter dinner and variety basket by April 8. Orders must be placed by 3 p.m. on the 8th for pickup between 10 a.m. and 5 p.m. on Sunday, April 17. This complete dinner includes five sweet and savory foods. – brown sugar glazed ham, creamy scalloped potatoes, crisp broccoli salad and warm buttery rolls. It's enough to feed 8-10 diners, or have delicious Denver leftovers, sandwiches and omelets for days.
You can also add a ham, vegetable or smoked salmon quiche which serves between six and eight people or one of their varied baskets. There are small and large fruit baskets, a charcuterie and wine basket, or a children's basket with a fluffy stuffed chick and lots of Easter candies. Submit your order online and you will receive a confirmation email within 24 hours confirming your reservation. No substitutions are allowed.
Once you've booked your dinner, take the kiddos and their baskets for the annual Easter egg hunt. Bayview is holding theirs on Saturday, April 9, and Ralph's Thriftway will host the following Saturday, April 16. Reservations aren't necessary for either hunt, but they are on a first-come, first-served basis, so line up early as it fills up quickly. Both hunts start at 10:30 a.m.
Stormans has hosted the Easter egg extravaganza for over a decade and several hundred children take part each year. Follow your local store on Facebook for hours, event details and last minute updates.
Hop for halibut
The delicious treats don't fly away with the Easter Bunny either. On Saturday, April 16 at 9 a.m., adults can get their healthy treats at the Halibut Sale, which takes place at Bayview Thriftway. "For this sale, we will be offering whole halibut sold by the pound at the best possible price," says Ashley Paterson, director of marketing. "Also steaks and halibut fillets sold by the pound at a great price as well. We will have local Manila steamer clams and local Pacific oysters. We have never sold prawns at any of these events before, but we are looking for the right prawns for sale so that we can offer a great product at a great price.
You don't know how to prepare the catch of the day once you get home? Bayview School of Cooking once again comes to the rescue. Their recipe for Halibut with Cumin and Avocado is a tasty treat. They also explain how to make Grilled Halibut with Mango Salsa, Baked Halibut with Parmesan Crumb Topping, and Roasted Nicoise Salad with Halibut. come back inside the store for lots of lemons, butter and all the trimmings.
Halibut is a deep-sea fish with lean white flesh. Containing fewer calories and fat than salmon, it has very few bones and a firm, flaky texture. It can be poached in red or white wine, baked, grilled, pan-fried or gently simmered in chowder.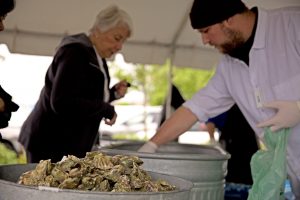 Whatever your cuisine, find trendy, fresh and inspiring recipes on the Cooking School's Facebook page. They also suggest dining in tandem with in-store specials or seasonal finds, with the casual comfort classic mixed in. Facebook is also where you'll see details about — and ordering information for — takeout deals, meals, and packaged items in progress.
Whether you love cookies and milk or steak and potatoes, expert pairings bring out the best in every ingredient. In April, let Stormans inspire you and all you have to do is jump and pick things up. From halibut to chocolate eggs, charcuterie to dessert, there's something for every taste, every occasion, every budget, and every Easter bunnie.
sponsored