Fil-Am Stars Celebrate Jo Koy's 'Easter Sunday' World Premiere │ GMA News Online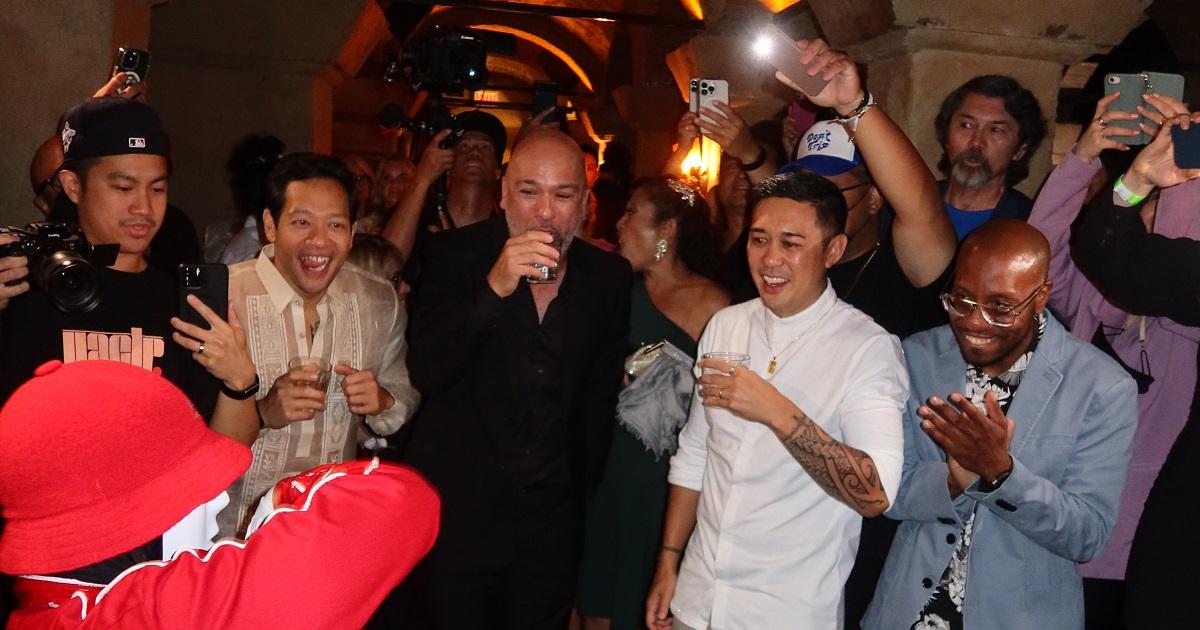 LOS ANGELES — All the Titos, Titas, Kuyas and Ates headed to Grauman's Chinese Theater (TCL Chinese Theatre) where the world premiere of comedian Fil-Am Jo Koy's feature debut, "Easter Sunday," opened at a large audience.
The pink carpet was rolled out and all the stars came, including none less than the Megastar herself, Sharon Cuneta, who just performed with Regine Velasquez here in Los Angeles. Also in attendance was the first Filipino U.S. Attorney General of California, Rob Bonta.
Other guests who walked the pink carpet included Vina Morales, Raymond Gutierrez, Mica Javier and Ylona Garcia.
It was a historic moment indeed as it is the first Filipino-American film that a major Hollywood studio has distributed with no less than Steven Spielberg and his Amblin partners producing.
"Easter Sunday" reflects the multiracial America that is still not reflected in some movies and TV shows.
Before the screening, Jo Koy, the man of the hour in an all-black suit, took to the stage to greet an excited cheering crowd.
The 51-year-old comedian told the audience, "We all deserve this light. I'm not just saying Filipinos in general, I'm saying everyone. We can all tell our story. We all deserve to have our voices heard. And when you watch this story, you're all going to say, "Hey, we're the same. My mother is like your mother."
He added: "About 19 years ago I was still a comedian. I met this beautiful comedian by the name of Tiffany Haddish. Tiffany and I used to work together at the Laugh Factory. Every day we We were working there and eating corn dog and drinking big. When I brought my son to the Laugh Factory, she was holding my son.
Haddish, with cropped blonde hair and wearing a sexy gold satin dress, joined Jo Koy on stage and said, "I love you Jo and I'm so proud of you!"
Then Jo Koy called his son, Joseph Herbert Jr., on stage and the 19-year-old joined the two actors and the three decided to take a selfie on stage.
The film, directed by Jay Chandrasekhar and written by Ken Cheng and Kate Angelo, is inspired by Jo Koy's life experiences and career in stand-up comedy. As Los Angeles-based Joe Valencia, Jo Koy tries to land a role when his mother asks him to come home and spend Easter weekend with his family in Northern California.
This Filipino family, like any clan in the world, has its share of colorful uncles (Titos), aunts (Titas), friends and acquaintances.
The cast includes Filipino-American actors Tia Carrere (Tita Theresa), Lou Diamond Phillips (as himself), Eva Noblezada (Ruth), Lydia Gaston (Tita Susan/Joe's mother), Rodney To (Tito Arthur), Melody Butiu (Tita Yvonne), Eugene Cordero (Tito Eugene), Brandon Wardell (Junior/Joe's son), Joey Guila (Tito Manny), Tiffany Haddish (Vanessa), Jimmy O. Yang (as himself) and Asif Ali (Dev Deluxe), among others.
After the screening, some of the guests walked to the nearby Roosevelt Hotel where the after-party was held.
Of course, the menu included popular Filipino staples like lumpia (egg roll), flan de leche (custard), empanadas (pork, beef, or vegetables), among others.
At the after-party, Jon Jon Briones ("The Assassination of Gianni Versace", "Ratched", "Miss Saigon") his actor son Teo ("Wind River", "Chucky") and his actress-singer wife Megan Johnson Briones ("General Hospital", "Amnesia") were joined by Eva Noblezada ("Yellow Rose", "Miss Saigon"). Soon, Princess Punzalan was also reunited with her former "Yellow Rose" co-star, Noblezada.
Carrere, who looked stunning in a red Oliver Tolentino gown, found herself shaking and grooving all night with Haddish. A dancer from Jabbawockeez started the breakdance then another guest followed suit to the delight of Jo Koy, Cordero, Phillips, Carrere and Haddish.
To, whose jacket with the golden sun on the back was definitely an eye-catcher, brought along his partner actor James Leo Ryan. But he kept whispering to us, "I want to meet Sharon Cuneta. I heard she was there.
Cuneta, who looked dapper in an all-black suit with gold necklaces, became the party's most sought-after guest. She was accompanied by Anna Liza Recto-Ruth, one of the producers of Cuneta's upcoming film, "The Mango Bride" by Marivi Soliven.
To told us after finding Cuneta in a private room with Jo Koy and friends, "I got goosebumps." He hugged and talked to Cuneta, his idol, who was charming and friendly to anyone who came near her. Then he exclaimed: "My mother will be so proud of me! No matter what I have achieved. For her, meeting Sharon Cuneta tonight is the highlight of my career!"
Even Gaston, dressed in an elegant dress accented with feathers, was looking for Cuneta. So did Butiu, who was dressed in a sexy blue off-the-shoulder dress with a slit in the front. Her brother-host John Butiu and his wife, as well as Melody's partner Alan Combies, accompanied her to the event.
Reggie Lee ("Grimm," "Prison Break," "Pirates of the Caribbean"), dressed in a white barong and wearing a foot orthotic, arrived at the event to show his support. Actor Jason Rogel ("Raven's Home," "Kevin from Work") joined Lee later that night.
Blooming Tagle-Kline's Anna Maria Perez in an off-the-shoulder Tiffany Tadashi shoji blue dress, minus her husband Scott Kline, was also thrilled to meet Cuneta while the latter said she still remembers singing with the great -mother of Tagle-Kline, legendary singer-actress Sylvia La Torre, who is now 89 years old.
It was indeed a historic fun night for Filipino Americans and their friends.
And as Jo Koy said, "It's all about representation. It's like learning little things about someone's culture, but also realizing that we're all the same. A family is a family."
On August 5, when the movie officially hits all theaters, let's get this party started, Bay-bay!
—MGP, GMA News